5 USEFUL HOUSEWARMING GIFTS FOR YOUR LOVED ONES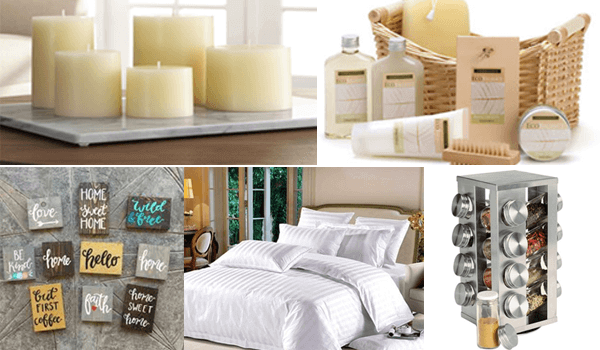 A new home means new things to fill it up. If your friend or a loved one has recently moved into a new house then it is certain that a housewarming gift will make
him/her happy. Scroll down to discover the list of exciting housewarming gifts!
Bed Sheets
Comfortable bed is something which everyone likes. Gift one of those premium white cotton bed sheets to your loved ones. It will definitely help turn their house cozy!
Spice Rack
If they love to cook, a spice rack is a welcome addition to any new home. Choose a beautiful looking spice rack and make their day.
Candles
Candles are a really good gift to give at housewarming parties. Choose beautiful looking candles as housewarming gifts and help them fill their homes with fragrance.
Custom Painted Wooden Signs
Opt for exciting looking customized wooden signs and gift as housewarming gifts. The wooden signs boards are hand painted with captions like "home sweet home".
Bath & Body Spa Sets
There is nothing like a bath & body spa set as a housewarming gift. Opt for this exciting gift for your friend who can indulge in a leisure bath at his/her new house.
More News
Register Now
DELHI
PRAGATI MAIDAN NEW DELHI
days
Hours
Minutes
Seconds
BENGALURU
KTPO TRADE CENTRE WHITEFIELD INDUSTRIAL AREA, BENGALURU