Custom Corporate Gifts: Enhancing Your Brand and Making an Impact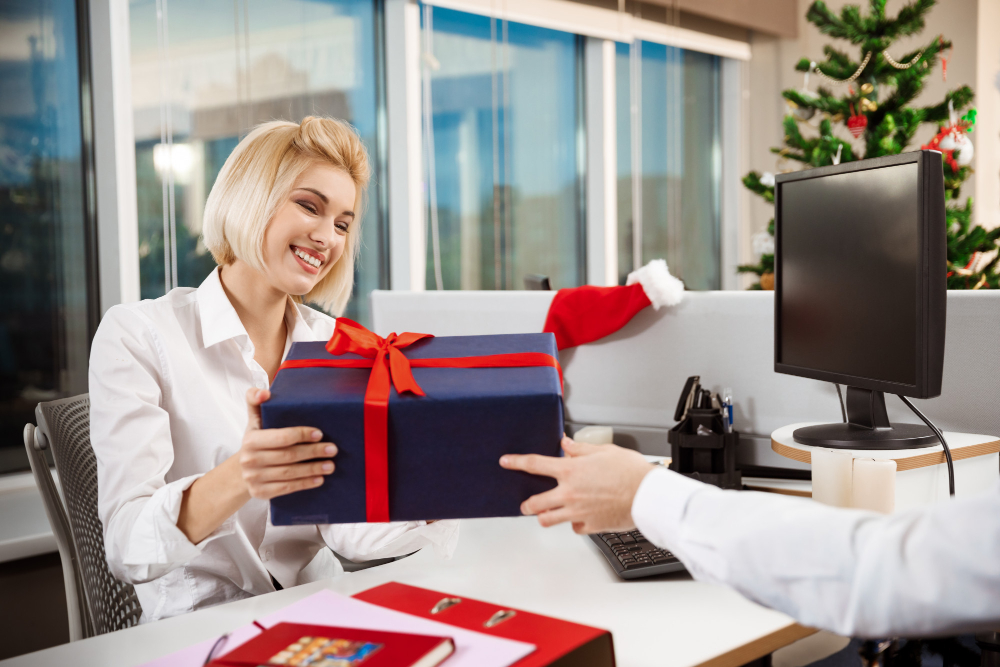 Gifting Industry
Gift-giving is ingrained in Indian culture, history, and social practices. We are profoundly enthusiastic regarding the exchange of gifts, whether for personal or professional reasons. It has become a part of our culture as well as our daily lives, serving as a medium of expression in both individual and corporate spheres. According to TechSci Research projections, the Indian gifting market is expected to increase from $119 million in 2019 to $159 million by 2025. Market participants may now plan, develop, and deliver finished goods at record speed because of growing digitization and advanced production techniques and technology. Online gifting has become one of the fastest-growing businesses in recent years, with rising demand driving up sales for e-commerce companies.
Corporate Gifting
Corporate giving has been integrated into many companies' cultures and has become a crucial component of managing a modern organization. Giving a business gift to an employee is becoming more popular and has a favorable effect on client retention, growth, and promotion. It contributes significantly to strengthening bonds with the company's most crucial clients and personnel, creating new connections, developing goodwill, and advancing business goals. For business presents, there are various options accessible on the market. It is essential to look for products that are offered by reliable retailers and that are culturally appropriate.
Customized Gifting
Customized gifting refers to the practice of creating unique and personalized gifts. It's always fantastic to get an amazing gift that makes the giver and receiver feel fulfilled for a very long time. When gifts are as unique and creative as customized gifts, their meaning assumes an even larger sense of value. Increased advertising campaigns by well-known businesses, as well as the personalization and customization of present goods, are driving the Indian gifting market. The country's gifting sector has grown tremendously as a result of innovative packaging, personalized messages, and boxes with unique engravings all contributing to a flawless purchasing experience. According to Technavio, the custom gifts market is expected to develop at a 7.85% CAGR between 2022 and 2027. Forecasts indicate that the market will grow by $13,011.27 million.
Benefits of Custom Corporate Gifting
Custom corporate gifts allow you to tailor your gifts to the recipient's tastes, preferences, and interests. Such gifts can be used to show appreciation for clients, employees, and business partners to foster stronger relationships. Customers who receive your special corporate gift will think favorably of your company. As a result, your company's reputation with potential clients will improve significantly. They tend to deepen already-established bonds while also starting some new ones thanks to their nostalgic, evocative style. What sets it apart from other types of presents is the unique personal touch of brand or relationships.
Latest Trends in Custom Gifting
Sustainable gifts – These gifts involve products that are environmentally and socially responsible, involving choosing gifts made from eco-friendly materials, are recyclable, and have minimal impact on the environment. Sustainable gifts encourage waste reduction and a greener lifestyle for your customers and staff.
Personalized gifts – Finding the ideal gift for each person can be quite difficult, especially at work. Most businesses that sell promotional products provide you the option of adding your logo or brand name to a present, allowing you to give something special while expanding the reach of your business. The greatest corporate gifting suggestions will complement and build on your business's essential messages, demonstrating that your basic principles are applied to all facets of your operations.
Uniquely Packaged gifts – Corporate gifts can also reflect your brand's values and objectives and assist in communicating its narrative. In addition to making the recipients happy, a corporate gift with gorgeous packaging will help potential customers remember your brand for a long time. Many businesses have turned to corporate gift boxes and gift sets as a means to welcome new hires, inspire and motivate workers, and usher in the festive season with their customers.
Cultural gifts – Corporate cultural gifts can help to demonstrate respect and appreciation for cultural diversity and can contribute to building stronger relationships with clients. Such gifts that reflect the culture and traditions of the recipient's country or community show that you value and respect them.
Handicrafts – Indian handicraft gifts are becoming more popular or more frequently used as corporate presents because they are all distinctive from other corporate gifts. Such gifts demonstrate the efforts made by businesses to pick an undoubtedly distinctive selection of traditional art and craft that has been transformed into a variety of lovely, modern products.
Health and Wellness gifts – Any business culture must have a strong emphasis on employee wellness. Gifts convey your concern and, if thoughtfully chosen, can enhance the well-being and self-esteem of your employees. Employee wellness gifts are a great way to appreciate your staff's health as they motivate people to pay attention to their mental and physical health.
Work-from-home gifts – You can give coworkers who work remotely gifts if they work from home. These presents typically have something to do with working remotely, such as gadgets or desk adornments, or they may be otherwise geographically independent, like gift cards and online subscriptions. These presents are intended to raise spirits and enhance workplace culture.
How to make a lasting impression
Giving employees meaningful, customized, high-quality gifts demonstrates your understanding of and concern for the people who carry out every aspect of your business. Corporate gifts are more than just a formality; they're also a means for you to express yourself, whether it's by thanking your executives, expressing gratitude to your staff, or telling your clients how much you value them. Giving presents that are built to last a lifetime, supports businesses that are committed to reducing their negative impact on the environment. A handwritten, personalized letter or note accompanied by the present heightens its impact. By focusing on gifting a high-quality, timeless, and personalized present, you can differentiate your brand from others and demonstrate building lasting relationships with clients, customers, and employees.
Conclusion
In conclusion, whether you choose to focus on sustainability, cultural gifting, or personalization, the key is to understand your audience and to offer gifts that reflect your brand values and commitment to building lasting relationships. By investing in corporate gifting, you may express your admiration and gratitude for the individuals who promote your business and are crucial to its growth. 
More News
Register Now
BENGALURU
Tripura Vasini, Palace Grounds, Bengaluru
KOLKATA
BISWA BANGLA MELA PRANGAN (MILAN MELA), KOLKATA
DELHI
PRAGATI MAIDAN, NEW DELHI
days
Hours
Minutes
Seconds